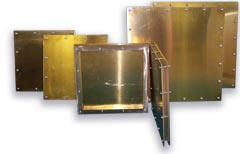 Bulkhead Connector Panels
Raymond RF Measurements Corp. specializes in the design, testing and manufacture of RF Shielded Bulkhead Panels for the installation of R.F. connectors, D-subminiature filtered feedthroughs and other components that require a thin panel for proper integration into an RF Shielded Anechoic Chamber, or QuietBox.






Brochure

Request a quote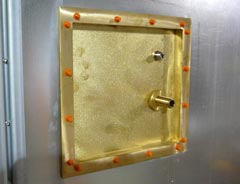 Key Features
Standard and Custom sizes
Custom Machined Hole Patterns
Field Locatable
Standard and Custom Sizes
Raymond RF standard bulkhead connector panel dimensions:

Brass Panels for Antenna Chambers:
o 300mm X 300mm
o 450mm x 300mm
o 450mm x 450mm

Aluminum Panels for QuietBox products:
o 5.5" x 5.5"
o 10" x 10"

Custom sizes are available.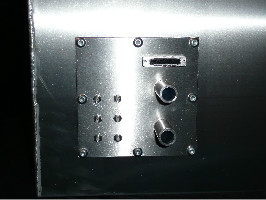 Custom Machined Hole Patterns
For hole layouts where connector location is critical, Raymond RF can machine hole patterns using accurate NC machining tools to match client requirements.

The installation process of our bulkhead connector panels allows them to be easily installed in the field. This allows our Installation Specialists to install the bulkhead connector panel based on actual site measurements taken once the anechoic chamber has been fully erected ensuring perfect alignment with client facilities. Client-specified R.F. connectors and filtered feedthroughs can be field or factory installed.

Privacy
.© 1994-2021 Raymond RF Measurements Corp.