Modular RF Shielded Enclosures
QuietShield-Mod
Raymond RF Measurements Corp. specializes in the design, manufacturing and testing of modular RF Shielded Enclosures. With over 25 years of proven product development expertise, we combine our exceptional shielding products to create a high performance R.F. Shielded Enclosure suitable for virtually any shielding application. With superior design flexibility and an extensive list of options, Raymond RF can design, install and certify the perfect Modular R.F. Shielded Enclosure System to satisfy even the most stringent client.


QuietDoor-Mag is our patent pending RF Shielded door. Hands free automated latching operation is standard.

QuietDoor Mod
Brochure

Manual
Request a Quote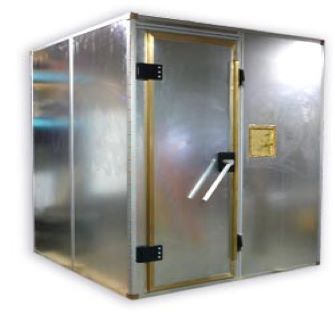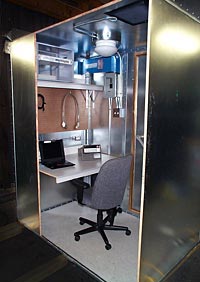 Turnkey Solutions
We offer the Raymond RF Modular Shielded Enclosure System as a full turnkey solution starting from the design phase through to the on-site installation and RF Shielding Effectiveness certification complete with any electrical, HVAC, life-saving system or seismic requirements. Our basic Modular System consist of solid core panels, made from two 28 gauge galvanized steel panels laminated to a high density wood core, clamped together using a 1/8" galvanized roll-formed framing system. Special tri-lobular rolling/thread-forming TORX fasteners set on four inch centres of the framing system ensure an RF-tight seal while providing even compression down the entire length of each piece of framing. Corners are sealed using bronze cast tetrahedral corner caps.

QuietShield-Mod Enclosures can be customized to suit our customers' needs, and can be ordered with a variety of standard options including:
Any size from 4'x4'x7' to aircraft hanger size
Handsfree Autolatching QuietDoor-Mag RF Shield Doors
Filtered power line feeds
Air Waveguide Vents
Fiberoptic Media Feedthroughs
Interchangeable Bulkhead Panels
Waveguide Pipe Penetrations
RF Shielding Effectiveness
QuietMod performance: 100 dB from 10 MHz to 40 GHz
Upgrade performance 1: 120 dB from 10 MHz to 40 GHz
Upgrade performance 2: 120 dB from 10 MHz to 100 GHz

Privacy
.© 1994-2021 Raymond RF Measurements Corp.