RF Shielded Rack Cabinets
QuietCab
Raymond RF Measurements Corp. specializes in the design, manufacturing and testing of portable RF Shielded Enclosures. The QuietCab provides the shielding effectiveness of a full size walk-in RF Shielded Enclosure in a compact and maneuverable package. The QuietCab is the perfect shielding solution for customers who need to integrate rack mount "Consumer Off of the Shelf" (COTS) equipment into a harsh RF environment.

Based on the tried and proven QuietBox technology, the 33" wide x 45" deep x 82" high QuietCab maneuvers on casters through standard office door ways. Each cabinet is equipped with its own power line filter, receptacles and ventilation system. Simply plug the QuietCab into any receptacle and it is ready for use.

The QuietCab-HF (High Frequency) is designed for applications which do not require RF shielding below 1 MHz.


Brochure

Manual
Drawings

Request a Quote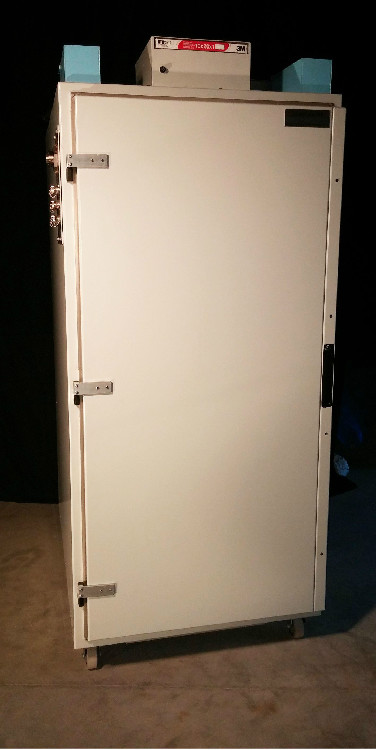 Full Line of Options
QuietCab can be customized to suit our customers' needs, and can be ordered with a variety of standard options including:
Up to a 37u 19" rack
Up to 6 each 30 Amp Filtered power line feeds
Rack mountable power bars
1 G-Bit duplex LC fiber optic connections
Filtered ventilation for 12000, 24000 or 36000 BTU load
Height-adjustable casters
Powder coat paint finishes
Secure door and fiber access panels
RF Shielding Effectiveness
QuietCab performance: 55 dB at 10 kHz rizing to 95 dB at 200 kHz; 100 dB from 200 kHz to 10 GHz.
Upgrade performance: 120 dB from 1 MHz to 40 GHz

QuietCab-HF performance: 100 dB from 1 MHz to 10 GHz
Upgrade performance 1: 120 dB from 1 MHz to 18 GHz
Upgrade performance 2: 100 dB from 18 GHz to 40 GHz