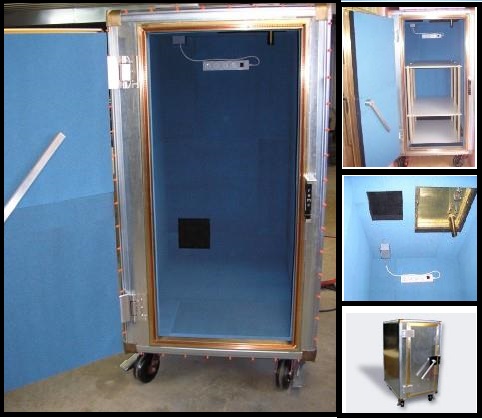 Isolation Testing
QuietBox-100m
Raymond RF specializes in the design, manufacture and testing of portable and table top, RF Shielded Enclosures. The QuietBox-100m portable shielded boxes and RF shielded cabinets are made from the same proven modular RF shielding materials as a full size Modular RF Shielded Enclosure systems and offer the same exceptional RF Shielding Effectiveness. The QuietBox-100m is the perfect portable or tabletop laboratory enclosure where larger interior volume or higher RF Shielding Effectiveness is required




Request a Quote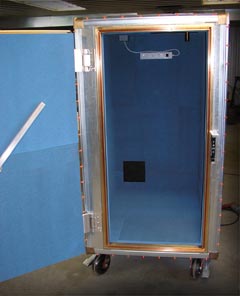 Key Features
Fully customizable
Full line of options
Upgradeable RF Shielding Effectiveness
Each QuietBox 100 is designed from the ground up to satisfy all the requirements of the client including enclosure dimensions, door swing and mounting style (tabletop or portable).
Full Line of Options
The client can choose from our long list of options to ensure their enclosure meets the requirements of their application. The client can also specify the exact location of each option to best suit their needs.
Fully Customizable
Rack-mountable
Bulkhead panels
RF Connectors and feedthroughs
Waveguide penetrations
Internal power packages
Ventilation packages
Digital and Analogue filters
Lockable Undermount Casters
Absorber lining
RF Shielding Effectiveness
Standard performance: 55 dB at 10 kHz rising to 95 dB at 200 kHz, and 100 dB from 200kHz to 10 GHz.

Upgrade2 performance: 100 dB from 1 MHz to 40 GHz
Upgrade3 performance: 120 dB from 1 MHz to 40 GHz
Privacy
.© 1994-2021 Raymond RF Measurements Corp.