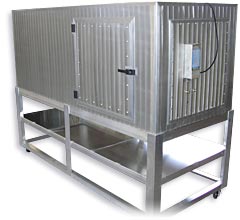 Portable Anechoic Chamber
QuietBox-AR
Raymond RF Measurements Corp. specializes in the design, manufacturing and testing of portable RF Shielded Enclosures and portable RF Anechoic Chambers. The QuietBox-AR is a mobile solution for pre-compliance EMC and antenna testing, including 3D antenna pattern measurement, total radiated power and total isotropic sensitivity testing. Fully equipped with optional broadband absorber, integrated antenna and rolling cart, the QuietBox-AR is a cost effective option for product verification prior to fully compliant testing.

Brochure

Request a Quote
Precompliance Testing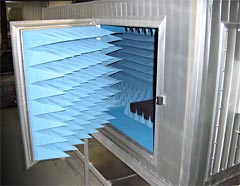 Key Features
Cost Effective
Portable
Full line of options
Upgradeable RF Shielding Effectiveness
Cost Effective
When compared to the cost of a walk-in pre-compliance chamber, the all-aluminum QuietBox-AR is a cost effective solution for performing pre-compliance emissions and susceptibility testing on products up to 14" x 14" x 14" in size. A shielded access hatch allows access to the optional 2' x 2' absorber platform at one end of the horizontally oriented enclosure. An optional integrated broadband antenna mounted at the opposite end allows RF transmission and reception while broadband absorber helps eliminate nulls and hotspots and ensures test repeatability.
Portable
The all-aluminum QuietBox-AR portable anechoic chamber sits atop an optional rolling cart complete with an integrated equipment shelf. Cart casters are lockable, providing stability during use. When not in use, the enclosure can be easily rolled to an out-of-the-way location.
Full Line of Options
The extensive list of options allows our clients to customize the QuietBox-AR to meet their specific requirements
Broad Band Absorber is available from 4" to 12"
Bulkhead panels
RF Connectors and feedthroughs
Waveguide penetrations
Internal power packages
Ventilation packages
Digital and Analogue filters
All aluminum cart with equipment shelf
Measurement antenna
RF Shielding Effectiveness
Standard performance: 80 dB from 1 MHz to 10 GHz.
Upgrade1 performance: 100 dB from 1 MHz to 10 GHz
Upgrade2 performance: 100 dB from 1 MHz to 40 GHz
Upgrade3 performance: 120 dB from 1 MHz to 40 GHz
Privacy
.© 1994-2021 Raymond RF Measurements Corp.